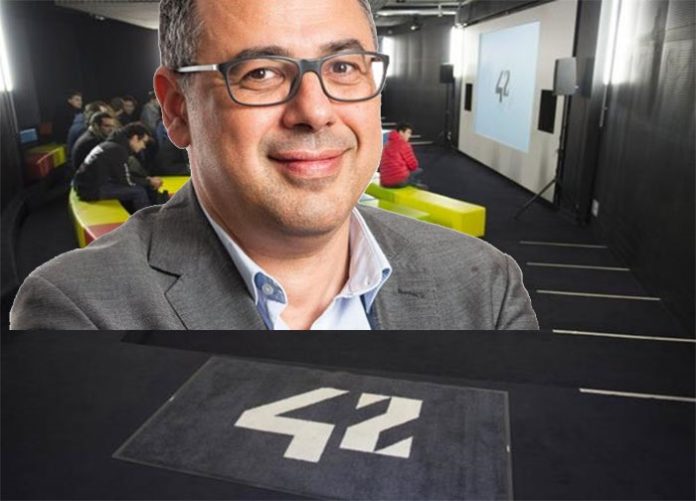 Getting excited is not easy for a journalist. First of all, because by seeking to focus on subjects of all kinds on a daily basis, one acquires the placidity of the doctor and the coldness of the surgeon – a coldness beneficial for the patient, because the gesture becomes more precise! – Then, because we hear a lot about businessmen, bankable economic projects, and we see few who are willing to invest just for the other and not for profit.
But for Badreddine Ouali, who is heading one of the world's largest computer companies, Vermeg, (Tunisians are not so many in this field!), But who does not do it only for lucrative purposes and invest in the human, we will do it, for once – an exception. The size of the man is well worth it, and you will quickly agree.
Ouali met Xavier Niel at the last Tunisian-French Business Forum. From this meeting, and with the support of Emanuel Macron, was born the idea of a "School 42" for Tunisia. The idea quickly made way carried by a foundation and will be … completely free for all! A first in terms of learning in Tunisia!
Born To Code?
The information was first given in meeting of Prime Minister Youssef Chahed with Xavier Niel, a businessman and big French fortune. The man just referred to it at this meeting. But the project quickly made progress.
"School 42 is a totally free school. It's not a business, it's not an investment. It is an institution that can only work with lost funds. Structurally, it is something in which you cannot collect money from students, at all, or from future employers.
It's something non-profit and 100% philanthropy. It will be, zero payment for students. That's what Badreddine Ouali told AfricanManager.
As a result, it is the Tunisia Development Foundation which is in charge of School 42. It is in fact a French foundation whose board of directors includes the Nobel Prize winner Wided Bouchammaoui, and which has a subsidiary in Tunisia, with for president Badreddine Ouali, who will bring the School 42.
The same foundation finances a therapeutic farm for the disabled in Sidi Thabet and finances the international part of Smart Tunisia.
"We will, for School 42, appeal to international funders and solicit the State and the multilateral organizations friends of Tunisia. Participation will of course be lost, "said the president of the foundation and future leader of" 42 Tunisia ".
It should also be noted that Xavier Niel will provide the technology, educational tools, course videos and computer equipment including computers and servers.
Who will be able to enter, without spending anything at School 42 of Tunisia and when?
Still according to Ouali, "the student must first want it and have the turn of mind to do that". It is true that coders are almost a class apart from talented young people.
The characteristic of this school is that admission is made without any degree required, except to be 18 years old, and everything is free, not even registration fees. Ouali said it.
After that, "there are two steps in the selection. The 1st is done on-line by tests of logic, intelligence, etc. After, there will be interviews with the preselected during the 1st stage, there will be interviews and then a period of immersion that is called in School 42 "the pool" where they will be called to work on projects, to test their stamina to work day and night on their projects.
The final admission will be at the end of the pool, "says the head of the School in Tunisia.
By 2019, opening and registration
After so many details on this project carrying another model of education to be built in Tunisia after its success in France and elsewhere, one wonders when will this become possible? "You have to find the premises first, equip it, recruit the students.
We do not have a schedule yet, but we will still try to do that this year. What is certain is that it will be operational in 2019, but we will try that everything is ready, that it opens the doors and that there are the first students this year 2018 ", answers, sure of him and certain of the support of the Tunisian authorities, the businessman and patron Badreddine Ouali.
42 is already looking for a school field, preferably in the city of Tunis. Only requirement and not least: it must be in a place easy to access and cheap in terms of transport.
It should also be, because offering no other accommodation or food convenience, in a region, preferably in the city and where food and accommodation are not expensive at all, for students who have no money and whose time and energy will already be completely consumed by learning the Code and their projects